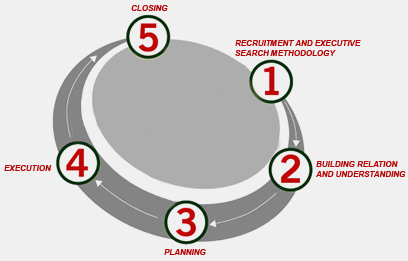 Executive search process is designed and is performed in a customised pattern. It is executed is by trained consultants targeting the best available talent pool and minimizing the possibility of missing out the potential candidate with our dynamic and advance talent hunt process.

We kick start the Recruitment Process by understanding our clients as corporate and as individuals. Without client active participation we can't achieve the common objective. We spend some time with the client to understand their needs and build a strong relation before we start with the search.

Understanding the Client
After investing time and resources with the client we develop a strong understanding of the organization, its culture, business - products, services, size and market place position, future plans as well as the specific requirements for the position to be filled. We would understand every detail of the job description and get a clear picture of what should be a good fit for this role.
Market Study
Detailed research and analysis is carried out to check the feasibility of the role and its compatibility with the market place.
Search Design
After all the background study the search is assigned to our expert consultants who then based on the requirements design a search strategy and draw a timeline on how it will be executed.

Sourcing and Identification
Sourcing & identifying a pool of high qualified candidates by various advance headhunting techniques is done by our consultants
Screening and Short listing
After the initial screening of the candidates we conduct reference check and showcase the shortlisted candidates to the client
Interviews and debriefs
Our consultants schedule interviews between the client and the candidates. Consultants debrief both client and the candidate after the interviews to check the progress of the selection process.

Negotiations
We actively participate in the offer negotiation with client and the candidate to make the transition as smooth as possible. We follow up with the candidates and the clients to ensure a strong relationship is maintained.
References
We do a formal reference check to authenticate the candidates' career achievements
Follow-Ups
After the successful candidate has been placed and begun their assignment, we maintain ongoing dialogue with both the candidate and the client to ensure smooth transition into the organization